An official list of the Austin Burlesque performers! Everyone listed below is an active member of the Austin Burlesque Alliance, highlighting the diverse talent that represents the most celebrated and collaborative of Austin's burlesque scene.

Your #1 source for finding burlesque talent for booking and upcoming gigs. Head on over to our Calendar to see the upcoming shows for Austin's burlesque scene.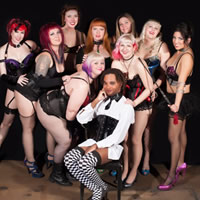 A local Austin Burlesque group who love to please! We perform both group numbers and solos, incorporating both classic vaudeville burlesque, and modern strip-tease. These lovely ladies are available for private shows, events, and venue performances. We're here teasin' and pleasin' and we want to spice up your nights!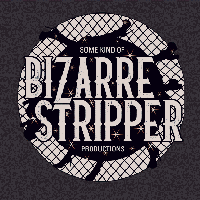 Bizarre Stripper Burlesque
Bizarre Stripper Burlesque, established in Nov. 2018, we are Austin's Premier All Trans Femme and Non Binary Burlesque Troupe. We are BiPOC Own and Run with Founders Jinxy Deviate and Sylvia Purchase. Core Cast Members include: Jinxy Deviate, Sylvia Hatchett Purchase, Louisianna Purchase, Ruby Knight, Estee Slaughter, Marley Belle, Kara Foxx Paris, Hermajestie, Chanel Andrews and Ms. Amazing Head.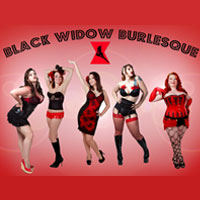 This diverse and exciting group of burly-q vixens are taking the city by storm with their dazzling mix of burlesque cabaret featuring classical and neo-burlesque and everything in-between! Known for keeping Austin weird, their dynamic range of group numbers and themed shows these ladies produce invite the crowd to dress up and be a part of the show!
Audiences rave about the theatrics these ladies bring to each of their themes- from musical to patriotic, drag to pin-up and glamor – and eagerly await the glitzy Anniversary/Birthday shows and their "Spanksgiving Festival" every November! They've been seen on stages and in festivals across Texas, wowing audiences every where they go!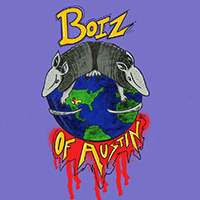 The Boiz of Austin are Austin's Only Drag King and Gender Diverse Drag Troupe, here to keep Austin Queer!
Mad Max Morrison founded the Boiz in 2015 originally as a home to foster local Drag King talent, but the troupe has since expanded to include all forms of gender expression and underrepresented performers! 
The troupe performs drag, burlesque, performance art, live singing, live music, aerial and pole, group routines, and so much more!
The Boiz of Austin were finalists for the "Best Drag Showcase" award by the Austin Chronicle in both 2019 and 2021, and they were also runner up for the Audience Choice Award at both the San Antonio Burlesque Festival and the Texas Burlesque Festival!
The Boiz hold two residencies, and can be seen performing live the second Tuesday of the Month at Elysium Austin, starting back again on June 8, 2021, and every month after! 
You can also catch the troupe performing live every 3 weeks at OilCan Harry's on 4th Street! Or if the virtual showcases are more your speed, tune in the third Tuesday of the month to Twitch.tv/PapiJinxy to catch the Boiz monthly virtual showcase!
Follow the Boiz on Social media to catch their next shows!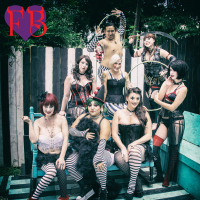 Frisky Business Burlesque
Since 2011 Frisky Business Burlesque has been known for bringing a unique blend of daring and diverse variety cabaret to the stage. What can you expect to see at a Frisky show? Cabaret singing, aerial acrobatics, modern dance, burlesque, sideshow stunts, group choreography, drag, flow arts, comedy, fetish, cosplay, and more! Their boundary-pushing shows are an over-the-top mix of burlesque and debauchery that is not to be missed.
For a devilishly good time, you need to Get Frisky.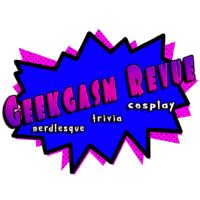 Geekgasm Revue is Austin's original dedicated nerdlesque, cosplay, and geek trivia production all in one. Established in 2015 by Professor Argo and Gemmi Galactic, Geekgasm has been exciting Austin audiences with geek-themed shows of rotational casts of cosplaying burlesque, drag, and variety performers.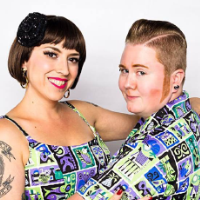 Queertini Time is an award-winning, gender-bending burlesque duet from Austin, Texas. Comprised of Eaton Johnson and Shelby Mine, this comedic duo began performing together in 2004 and formally established Queertini Time in 2010. They were featured in the Burlesque Hall of Fame's 'Movers, Shakers, and Innovators Showcase' in 2019, and were awarded the Best Duet and the Audience Choice awards at the first annual Southern Fried Burlesque Festival in 2011, Best Ensemble at the 2013 Texas Burlesque Festival, Best Duet at the 2015 + 2017 San Antonio Burlesque Festival, and Most Original at the 2018 Texas Burlesque Festival.
Eaton and Shelby were instructors at the Austin Academy of Burlesque since 2013 until it closed in 2020. Both have also been active members of the Austin Burlesque Alliance since its inception in 2011.
Queertini Time is a potent mixture of striptease, spirit gum, comedy, and camp. "This queer cocktail is always shakin'!"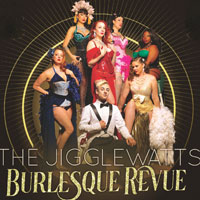 The Jigglewatts Burlesque Revue
With the longest continuously running show in Texas, The Jigglewatts Burlesque Revue has been teasing and thrilling audiences since 2006 with their re-imaginings of classic burlesque and exciting forays into the art of neo-burlesque. Two-time winners of the Austin Chronicle's Best of Austin award, members of the troupe have headlined at an international level with city appearances in Paris, Rome, London, Berlin, New York, Los Angeles, New Orleans and more. Featuring classically trained dancers, vocalists and entertainers whose brand of burlesque is upbeat, cheeky, clever, elegant and sexy all at the same time, they invite audiences of all kinds to join in the fun. With over 20 titles collectively, including Hot Rods and Heels "Troupe of the Year," Texas Burlesque Fest "Audience Choice Award," and Burlesque Hall of Fame "Best Debut" and "Most Classic," this resplendent troupe is the most highly acclaimed in the nation.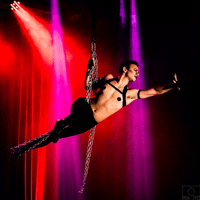 Alexander the Great / Alexander Danger
Alexander the Great (Alexander Danger) is an international, award-winning aerialist, drag artist, and burlesque performer who has been spotted on stages across the US, the UK, and Europe! He has been featured in more than 20 burlesque festivals in 6 different countries. He is a co-producer for both the Boyz of Austin and the Jigglewatts Burlesque Revue. He is a weekly instructor at the Austin Academy of Burlesque, and he teaches the only Pole dance class in Austin created for Transgender and Gender Diverse students ("Pole Rebels") at Black Box Creative Studio. When he is up in the air, you can see him flying around on his Pole, Lyra (aerial hoop), Aerial Chains or the aerial hammock.
He won "Most Original" at the OKC Burlesque Festival, and he was a finalist for Austin's Best Drag Performer by the Austin Chronicle in 2017 and 2021. He was also a finalist for the Best Male Entertainer award and Best Dancing Entertainer Award by the 2020 Austin Drag Awards.

He's the cosmic danger, here to smash the binary from the beyond…. he is Alexander the Great!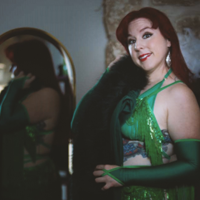 Amelie Ahmose, the Siren of Surprise, is a variety performer for hire in Austin, Texas and beyond. Using her backgrounds in Egyptian belly dance, opera singing, and acting, as well as her twisted sense of humor, Amelie Ahmose brings unpredictable burlesque and variety acts to the stage.
This Siren of Surprise can be found breaking brains as a member of Frisky Business Burlesque, Mistress Of Musicality Productions and a regular guest at the Geekgasm Revue. She has also joined comedic forces with Fou Fou Ha Austin, a collective of showgirl clown performers.
Amelie's dance training began as a teenager, and also kicked off her career as a variety entertainer. With over a decade's worth of performance experience, her talents are sure to provide a sensual and entertaining element to your next event. Whether she is enticing your audience with her belly dancing skills, or storming the stage with unforgettable burlesque performances, booking her for your next event is something you surely won't regret! She is a seasoned performer for hire in Austin, Texas and beyond!
Facebook Page: @AmelieAhmoseBurlesque
Instagram: @amelieahmose
Twitter: @amelieahmose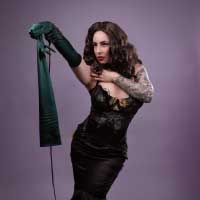 Anastasia Arsenic is a classically trained dancer and actor. She has performed and choreographed for a wide variety of dance and theater companies. Post studies she coached the University of Montana Dance Team and choreographed and produced a variety of dance showcases and musicals such as; Chicago, Reefer Madness, Rocky Horror Picture Show, Cabaret and Harley Davidson Presents: Leather Forever. 
After moving to Austin she danced with The Austin City Showgirls where she served as a back up dancer with the for the music award show on Univision Premios Texas. She stage managed Dance Austin's Annual Fight to Breathe Choreographers ball. She's danced and choreographed for neo-circ theatrical experience company Crash Alchemy, and as a guest artist for immersive and experimental dance theater company Third Rail Project (NYC). Most recently she has worked as a freelance choreographer and performer in the Austin community. She is the co-founder of the dynamic duo The Toxic Twins, a member of the Austin Burlesque Alliance, the former director and producer of Dr.Sketchy's Austin, a muse in Coco Lectric's production company Mistress of Musicality and an instructor at the Austin Academy of Burlesque and a member of the Bat City Bombshells.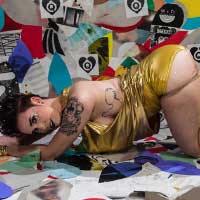 Dandy Velour is a burlesque performer in Austin, TX. Dandy is a member of Black Widow Burlesque and Bizarre Strippers Burlesque. They can be found in various states of undress locally and throughout the US. Aside from shows with their local burlesque troupes, they have had the chance to perform in numerous shows and festivals doing drag, burlesque, and cosplay acts, including The Austin International Drag Festival, The Texas Burlesque Festival, The Texas Queerlesque Festival, Spanksgiving, Queerbomb Denton, Queerbomb Austin, Bushwig, Switch n Play, Austin Pride, Boiz of Austin, The F Show, Gender Unbound, and The Body Political.
Dandy is trans non-binary and uses performance to blur the lines between masculinity and femininity, urging audiences to reconsider gender binaries. Dandy is known for their choreography and storytelling. Dandy has a background in swing dancing, and they have taught, performed, and competed internationally. Dandy uses this, as well as inspiration from K-Pop and modern dance styles to tell stories with movement. Whether sitting in pizza, collaborating with other burlesque performers, or sharing deeply personal and emotional acts, Dandy always has something up their sleeve. Dipped in gold and covered in glitter-they're Dandy Velour.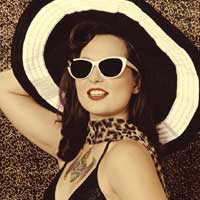 Delia Dread is known as the good girl, with bad intentions. Dread focuses on traditional burlesque, and vintage Go-Go dancing. But also brings a unique, one of a kind, modern twist, with an emphasis on "cheeky" comedy. She most definitely puts the ass in class.
With over 6 years in the burlesque community. Delia was the former founding member of Black Widow Burlesque. After BWB, DD went on her own and started producing variety showcases at Antone's nightclub. Currently, she is performing as a solo artist dancing with live bands like, The Copa Kings, Dale Watson, Two Hoots and a Holler and many more.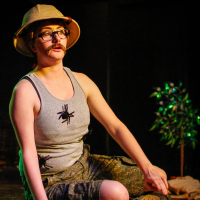 Dr. B. Hindstein, the nuts for butts Professor of Booty Appreciation, is the drag king brain child of Gemmi Galactic. Inspired by a mix of Jerry Lewis's physical comedy, the artist's own experience as a dorky adolescent, and sleazy ladies' man raunch, Doc is a big ego in an awkward frame. This Geek with Gusto has been stealing hearts from stages across Texas since 2014 with both Frisky Business Burlesque AND the Boiz of Austin. 
Originally from Orlando, Florida, Electra Mourning has called Austin home since 2007. With her background in theater and competitive forensics, she loves to make and hold a connection with an audience.
After performing initially in 2012 with the Bat City Bombshells, she branched out to become a soloist in 2013. A Graduate and occasional Guest Instructor at the Austin Academy of Burlesque, Electra believes you never stop learning your love.
With performances often called "Breathtaking" and "Captivating", she is your Sultry Southern Storm!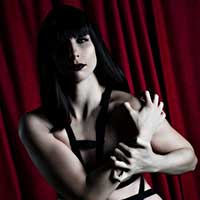 Originally from Atlanta, Eve Vocative is a relative newcomer to the burlesque scene in Austin, Texas. Beginning with an addiction to pole dancing, Eve transitioned to burlesque in 2013 and fell in love with the creative freedom it offered her. In the past year and a half, she has performed independently all over Texas, becoming known for character-driven pieces brimming with sexuality and humor. A frequent volunteer with Naked Girls Reading and Brass Ovaries Pole Dancing in Austin, you may have seen her shimmying all around Texas. This year marked her first foray into festival performance, and she was honored to be able to bring a little wicked fun to the Texas Burlesque Festival stage!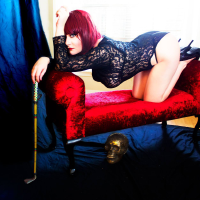 This silly space babe lives in a glittery vortex of scifi, horror, fantasy, and fetish! Landing her Galactic Mothership in Austin, TX, Gemmi has been performing clever and geeky burlesque as well as producing Frisky Business Burlesque since 2011 and producing Geekgasm Revue- Nerdlesque and Trivia since 2015. In 2016 Gemmi Galactic was an Austin Chronicle "Best of Austin" Finalist for Best Burlesque Performer, and has been an instructor with the Austin Academy of Burlesque since 2018. Setting pasties to STUN, this scifi sweetheart will make you say "Hubble, Hubble!"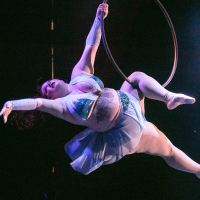 Ginger Snaps, The Tastiest Tease in Texas, is an award-winning burlesque performer, aerialist, and producer from Austin, TX. Voted Austin's "Best Burlesque Performer" by the 2016, 2017, 2018, and 2019 Austin Chronicle Reader's Poll, she is renowned for her unique approach to burlesque and aerial performance infusions. Ginger has been seen on stages and screens across the globe including on America's Got Talent, Das Supertalent in Germany, performing at the illustrious Burlesque Hall of Fame Weekender in Las Vegas, and numerous viral social media videos and articles.
She is the Performance Manager for Sky Candy (aerial / circus school), the founder of Legislate THIS – a series of burlesque fundraiser shows for Planned Parenthood, as well as the founder and lead producer of the Buxom Blaze Festival – the world's first plus size burlesque, drag, and variety fest. Ginger clearly doesn't sleep a whole lot, but finds great enjoyment in cats, circus, glitter, fighting the patriarchy, and bizarre productions. Follow her shenanigans on various platforms at @gingersnapsburlesque!
Goldie Candela began her role in the burlesque scene in 2007, billed as Abbey Rose in one of Austin's most successful Vaudeville Cabaret Troupes, Carousel Cabaret. After leaving Carousel in 2009 she joined The world renowned troupe, The Jigglewatts Burlesque Revue. After a 5 year run with this notable troupe Goldie has struck out on her own. Through her creativity and sultry stage presence, Goldie has established a reputation in the world of burlesque. As a hot up-and-coming burlesque performer, Goldie can be seen on the festival circuit, sharing the stage with renowned Kings and Queens of Burlesque and winners of Miss Exotic World.
Goldie is also the first recipient of the Sparkly Devil Memorial Scholarship, Burlesque Hall of Fame, 2014. Where she was able to learn one on one with Legends of Burlesque in master classes and be the escort to "The Venus of Dance", Dee Milo.
In addition to her active career as a performer, Goldie has earned accolades as a performance coach. Coming from a background of dance, theater and music, she helps performers at every level develop their characters and stage personae.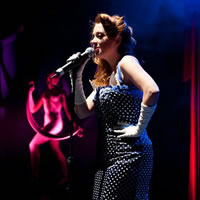 Jolie Goodnight, a member of the illustrious Austin, Texas Jigglewatts, is an international jazz singer and burlesque dancer in love with all things decadent and delightful. She is the 2012 2nd Runner up Miss Viva Las Vegas and the 2011 Texas Burlesque Festival Winner of the Best Tease Award and the Audience Choice Award. Her burlesque career began in San Diego, California with the award winning Hell on Heels Burlesque Revue and the Fishnet Follies Classic Burlesque Revue. She's been called the burlesque nightingale and she's slated to release her highly anticipated debut album this year. She and has been hailed by Bachelor Pad Magazine as your beacon in the night, Jolie Goodnight!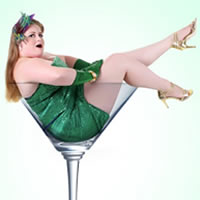 Remi Martini is an award winning performer that has been performing in Austin and the surrounding areas for over six years. She started her burlesque career with Big Star Burlesque in 2009. In 2010 she decided to become a solo performer. She has been slamming down the drinks since then.
She has performed a guest with most of the local troupes including the award winning Jigglewatts, Black Widow Burlesque,Bat City Bombshells Burlesque, and Fat Bottom Cabaret. She has also performed in wonderful cities like Dallas, San Antonio, Houston and New Orleans. ​
Remi Martini has also graced the stages of Texas Burlesque Festival (2010, 2011, 1012,2013,2014, 2015), The First Annual San Antonio Burlesque Festival (2012,2013,2014 winner of most original, 2015), Spanksgiving Burlesque Festival (2010, 2011,2013,2014), and the Dallas Burlesque Festival (2009).
Not only is she an experienced performer but has produced and assisted with overseeing Big Star Burlesque Productions. She has assisted other performers with honing their craft. ​​​Whether it be costuming or choreography she loves all aspects of Burlesque.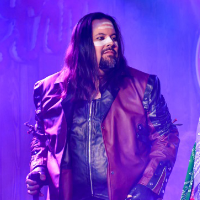 Roc Gaude grew up in a musical family – his uncle played trumpet for Doc Severinsen's (Johnny Carson's musical director) touring company, his father sang bass in the church choir – and spent many nights as a young godling singing rows and blending harmonies. He blames the vast array of musical styles he listened to on his current and extensive music collection. When he was not singing, he was deep-diving into geek culture – movies, tv, comic books, etc – which led to writing, performing and creating homemade costumes. After moving to Texas, he continued pursuing his two passions and took any opportunity to perform in singing or costume contests. After some gentle(?) prodding from the Mistress of Musicality Coco Lectric, he started taking classes in burlesque at the Austin Academy of Burlesque, which led to performing in a number of shows around the state of Texas, including the inaugural Texas Metal Burlesque Festival, the Tenacious D Tribute show, Burlesque the Vote 2019, and the first Krampus Kristmas show. He also co-produced the Homes for the Holidays charity show, which benefited Accessible Housing Austin. He frequently combines his loves of music, costuming, engineering know-how and geekdom to entertain his audiences. He is a member of the Austin Burlesque Alliance and the Bat City Bombshells. He just has one question for you – are you ready to rock?!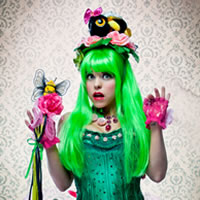 Roxie Moxie is a glam-punk-rockin' streak of flash and sass. Standing 4'10" without the heels (and she is rarely without), this tiny, tenacious teaser commands the stage. A classically trained dancer, Roxie began burlesquing in 2006 when she co-founded the Lollie Bombs, a contemporary burlesque ensemble. Since then, this hot little bump-and-grinder has tested the limits of burlesque performance with dynamic acts that exhibit comedic stylings and a knack for narrative storytelling. In 2008 Roxie relocated to Seattle, where she co-founded Stripped Screw Burlesque – a burlesque dance troupe with a decidedly modern take on the art of the striptease, and she took the stage in New York City where she played the part of Feral in SHINE: A Burlesque Musical in the 2010 NYC Fringe Festival. Roxie has most recently relocated to Austin, Texas were she co-produces Lowbrow @The Highball with Sassy Delure and dances with Avant Glam Cabaret and Innovation Performance Company.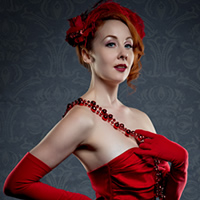 Ruby Joule is an international burlesque sensation and multi-award winner at the esteemed Burlesque Hall of Fame in Las Vegas. Hailing from Austin, Texas, USA, she is the co-founder of The Jigglewatts Burlesque Revue and has been producing and performing burlesque across the globe since 2006 with appearances including London, Paris, Rome, Ibiza, New York and Los Angeles among others. She is known for her dazzling elegance and grace, and having studied the art of the tease with legendary burlesque veterans such as Catherine D'Lish and Michelle L'Amour, she is sought out as a mentor in her field. As a trained actress, her IMBD credits have seen her name in ABC, NBC and Netflix titles. She is known as "The Gem You'd Love to Polish."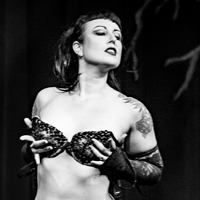 Part glitter-storm-cotton-candy-tumbleweeds and part succubus-warrior, Miss Ruby Lamb is a member of The Jigglewatts Burlesque Revue, Texas' longest continuously-performing burlesque troupe. As a Satan's Cheerleader, she has done good in the name of evil since 2001, and she's seen frequently on and off stage at drag shows, festivals, and benefits. Ruby is a frolicsome creature who joins Mistress of Musicality Productions for The Purple Party, a recurring burlesque tribute to Prince. In the past, she danced with Red Light Burlesque, Austin's original burlesque revival troupe; she engaged audiences with Naked Girls Reading Austin for six years; she wiggled and teased at the Austin Pride Festival for seven years; and in 2017, she was a headliner for the second annual Texas Queerlesque Festival in Dallas. In addition to cavorting on the main stage, Ruby is a seasoned producer, an occasional instructor at Austin Academy of Burlesque, and was the first model for Dr. Sketchy Austin, an alternative visual art event.  This naughty gamboling sheeplet is an instigator of hijinks, an ambassador of fun with an appreciation for the sexy and the absurd. Ruby Lamb is soft as scarves and wicked as wool.
She's cute, she's sweet, she's oh so petite! That tiny tart from Texas Sasha Dahl! Sasha has had a fever for all things theatre since 1999, and is an Alum of the Vortex Repertory Company in Austin, Texas. She has studied at St. Edwards University, and has worked in community theatre for years both on stage and behind the scenes. She is well versed in technical theatre, dance, performance, and is a classically trained vocalist. You name it this pint size power house can do it. She caught the burly-q bug in 2007 with the debut of her doll number at the Mohawk. Since then she's performed in Austin, Dallas, and Albuquerque, New Mexico. She regularly stage manages shows, works production crews around Austin, and hops on stage to shimmy and shake as often as possible. She is the technical director and stage manager for the Texas Burlesque Festival, as well as an instructor for the Austin Academy of Burlesque. Sasha loves to play with gender stereotypes, tongue and cheek humor, and to approach the world with a strut.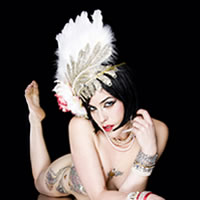 The Versatile Vixen with Sass, Class and a whole lot of Pizzazz! Sassy Delure is a classically trained dancer with a B.F.A in Dance from Cornish College of the Arts. She got her start in the cabaret world by working for Greg Thompson Productions in his northwest casino musical revue debut in 2001. She started her first cabaret "Ultra and the Satin Dolls" in 2003 with her friend Agent Rhinestone and soon after they formed the burlesque troupe The Heavenly Spies. For almost four years Sassy choreographed and performed in the Spies under the name Double Oh Sassy and was featured in The London Burlesque Festival in 2007. Upon return she started her solo career as Sassy Delure and performed regularly as a guest with the CanCan Castaways and later became a member of The CanCan Stowaways (both in-house cabaret troupes at The CanCan in Seattle). Sassy co-produced several shows in Seattle and toured the west coast with her friend Fuchsia Foxxx. Sassy has also performed with The SinnerSaints, The Atomic Bombshells, and in productions "Le Franciase Edition" and "Viva Oz Vegas" at The Triple Door in Seattle, WA. In 2011 Sassy re-located to Austin where she has performed with The Jigglewatts, in CherChez la Femme, at Austin Film Awards, Viva Las Vegas, and Viva Dallas Burlesque to name a few. That same year she was featured in a month long show in London called "Electric Burlesque/Boylesque". In 2012 Sassy became the co-producer of Lowbrow @ The Highball with Roxie Moxie, was a featured performer/choreographer in Femmes for Sims, and started Avant Glam of which she is artistic director/choreographer.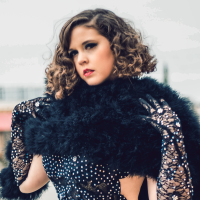 Something Blue is an active member and associate producer of The Jigglewatts Burlesque Revue from Austin, TX. Since joining the Jigglewatts as an official member in 2015, Blue has performed all around Texas and across the country with the troupe, touring the west coast 6 times and performing as a troupe in the 2016 Munich Burlesque Festival. As a soloist, Something Blue is a member of the Austin Burlesque Alliance and a graduate of the Austin Academy of Burlesque. She has performed with Naked Girls Reading – Austin and loves to travel with her art. Blue has performed at several burlesque festivals including Texas, Dallas, Colorado, Oregon, Mile High and Munich and has toured in New York City, Chicago and Paris. Something Blue was the winner of Metalesque God at the 2019 Texas Metal Burlesque and Variety Festival.
In addition to burlesque, Something Blue plays the voice of the chief stewardess at WJST Jet Set Radio and is a published pinup model that has been seen in the pages of Bachelor Pad Magazine. Blue is also known as The Moontower Mermaid and can be seen at pool parties and special events or haunting the natural springs of Central Texas.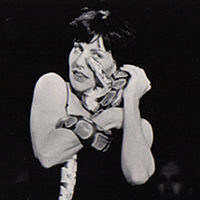 Terri Lynn Raridon aka Lynn has been performing in, choreographing and directing musicals in Austin since 1982. Show credits include: Gypsy, The Boyfriend, La Cage Aux Folles, The King and I, Carousel, Funny Thing Happened On The Way To The Forum w/ Joe Sears and Jaston Williams of Greater Tuna fame, Jesus Christ Superstar, Will Rogers Follies and Fame. She was an integral producer and performer of the Club Sandwich caberet series at Esther's Follies from 1989-1993. In 2004, Lynn transitioned her directing talents into the burlesque revival started in Austin by Kitty Kitty Bang Bang. Currently, Lynn directs most of her talents to event production and serves as Director and Producer of the Texas Burlesque Festival (2008-present), Extravagasm Fantasy Ball (2002-present), and Co-producer and Talent coordinator for The Austin Zombie Ball (2011).